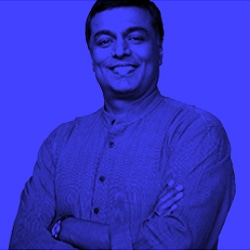 Vijay Bhat
For the last 10 years, Vijay has specialised in strategic consulting, leadership development, training, group/ individual coaching and facilitation.

Vijay helps his clients to navigate through major life transitions, both personal/professional and organisational. The core of his approach is that deep self-awareness is the necessary first step for lasting behavioural change.

Previously, Vijay spent 21 years with Ogilvy & Mather in various leadership positions. He has lived in Mumbai, Bangalore, Singapore, London, and Hong Kong, working with major corporations and leading brands around the world. His last assignment was on Ogilvy's Asia-Pacific Board as Regional Strategy Director, overseeing Corporate Strategy, Account Planning and Training/Talent Development for 20 countries across Asia.

Based on his personal encounter with cancer in 2001, Vijay (along with his wife, Nilima) have pioneered the field of 'Cancer Coaching' in India. They conduct group retreats and provide psycho-spiritual support for people recovering from the disease. Their book, My Cancer Is Me: The Journey from Illness to Wholeness has recently been published by Hay House.

Vijay is regularly featured in the Indian media – print, broadcast and online – and invited to be a keynote speaker.
Qualifications:
Bachelor of Arts, University of Mumbai
Post-graduate Diploma in Advertising & Marketing, Xavier Institute of Communications, Mumbai
Post-graduate Diploma in Marketing Management, Xavier Institute of Management, Mumbai
Certified practitioner:

Neurolinguistic Programming: NLP Institute, New York
Enneagram: Enneagram Institute, New York
Executive Coaching: PeoplePlus Consulting, Hong Kong
Back to Team