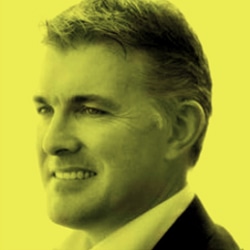 Justin O'Brien
Justin has been coaching senior executives for over 13 years. He focusses on increasing people's capacity to solve business problems through skill based and neurological coaching techniques. Through this approach he assists clients to build teams that are capable of continuous and safe high performance, ensuring ROI targets are met.

Justin's extensive business development and sales background enables him provide practical and effective advice on high stakes pitches. He will work with sales leaders and teams to craft their sales messaging, develop their tender responses and coach them on presenting to selection panels. He will also leave clients with a method that can be replicated for the next major sale.

Just as sporting professionals have coaches organisational leaders also need coaches to ensure they perform at their peak. Justin uses solutions-orientated coaching techniques combined with heart rate variability analysis to assist in achieving peak performance.

Justin has many years' experience as a presentations coach. He works closely with individuals and groups at two levels. Firstly, to develop content that drives action, persuades and achieves the presenter's objective. Secondly, to build the individual's impact through intensive coaching on delivery skills, while ensuring the presenter's authenticity.

Prior to entering the field of professional development and coaching, Justin worked in a variety of senior sales, marketing and management roles with notable multinational companies for a period of 13 years.
Qualifications:
Advanced Diploma in Solutions Oriented Coaching
Mayer-Salovey-Caruso Emotional Intelligence Test (MSCEIT) Certification
Qualified to administer Strength Deployment Inventory®
Bachelor of Commerce, University of Tasmania
Back to Team